Instagram now lets you pin up to three posts or reels to the top of your profile. Just like pinned posts on TikTok and Twitter, they'll sit at the forefront of your Instagram grid as if you recently posted them.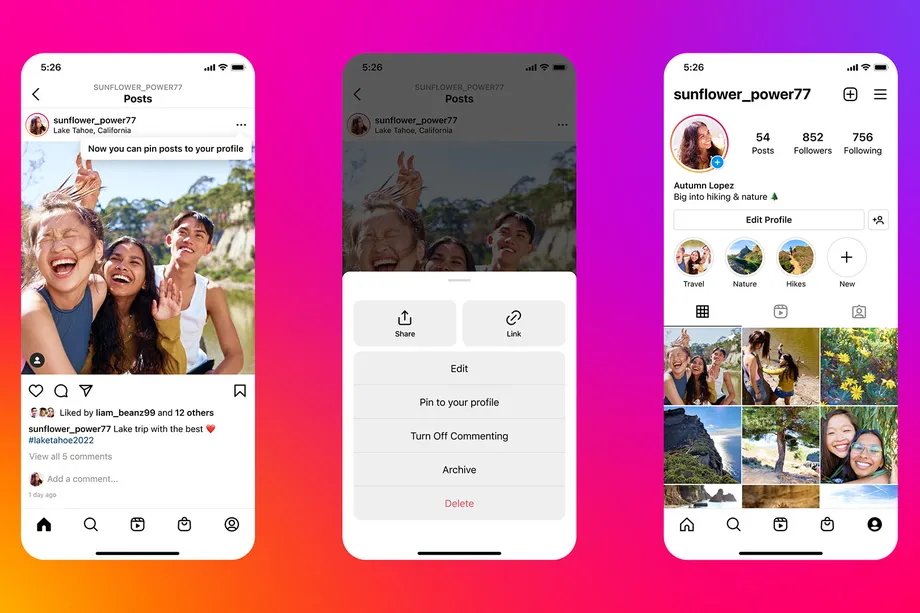 Instagram Pinned Reels:
You can use the feature by selecting one of your posts or reels and then tapping the three dots at the top-right corner of the post. From there, hit Pin to your profile. When you return to your profile, you'll see your post at the top-left corner of your grid with a white pin icon. If you decide to add another post or reel, any existing pinned posts will get pushed to the right.
Pinned posts have been in the works since at least the beginning of this year. Reverse-engineer Alessandro Paluzzi first spotted the feature back in January, and Instagram formally announced a test in April. While many users already use story highlights — which appear as bubble-shaped thumbnails that sit below your profile picture and follower count — to show off different categories of content, pinned posts could allow creators to ensure certain posts get noticed.
Conclusion:
While this feature isn't anything new, it is a nice feature to have. It's clear that Instagram has every intention to stay relevant and compete with other social media platforms. It's just one more ingredient in the recipe of the perfect social platform and it's only a matter of time when another feature follows. All in all, it's a welcome addition and will only get utilized more and more with time.
If you're a parent or guardian looking to get your kid a new phone, look no further! Clean Phone allows you to manage your kid's phone from anywhere. It offers you complete parental control and tons of amazing features. You can easily pick and choose which apps and games your child can use! It supports complete phone monitoring, including phone call and SMS usage. You can even control how long and how often your kids can use apps or the internet. You can also check and manage their call logs, SMS logs and screen time. Over 1000 parents have mental peace because of clean phone.