Snapchat's latest update is here! Snapchat is making it easier to share YouTube videos within your snap or story, letting you bypass the process of copying, pasting, and attaching the video as a link. The feature is available on both Android and iOS. Starting today, all Snapchatters across iOS and Android can seamlessly share their favorite YouTube videos with their friends straight through the Snapchat Camera – no more pesky copying and pasting required!
More than 2 billion users visit YouTube every month to find new music, learn skills, catch up on news, etc. With this new integration, these viewers can send their favorite videos directly to their friends on Snapchat.
Snapchat's latest Update:
This is the first time that YouTube links can be shared visually to Snapchat Stories and one-on-one Snaps, while still accessing the Camera and full suite of Snapchat Creative Tools for self-expression. These tappable YouTube stickers bring Snapchatters directly to the video within the YouTube app or in their preferred mobile browser. These new stickers also give you a clearer look at the thumbnail!
How to Share: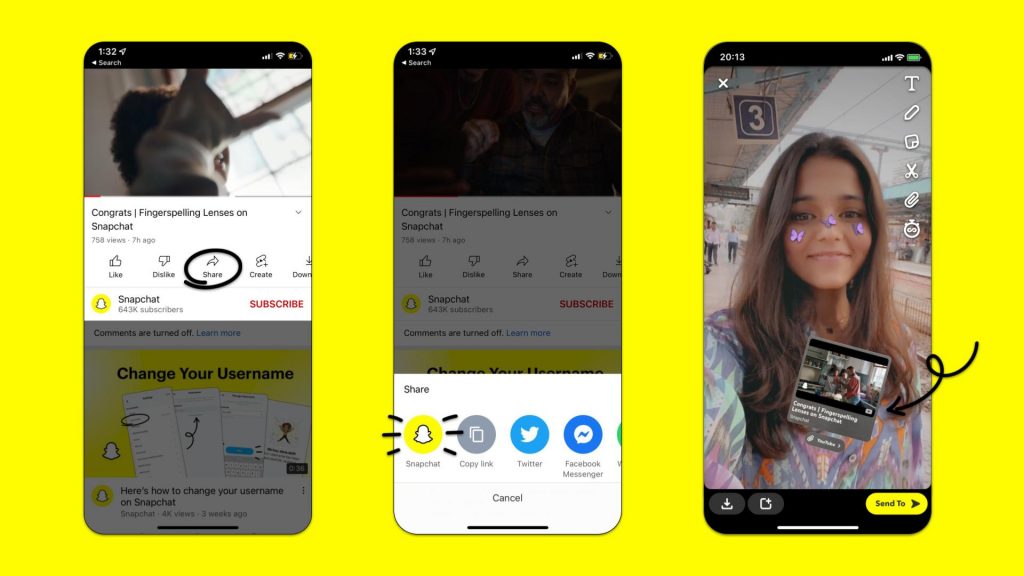 Now, all you need to do is navigate to the YouTube video you want to share, hit the "Share" button, and then select "Snapchat." Snapchat will open, and the video will automatically appear in your camera as its own sticker, showing the name, thumbnail, and creator of the video. After you take your picture or video, you can play around with the size of the sticker, rotate it, and place it anywhere on the screen. Anyone who views your snap or story can click on the link and view the video within the YouTube app or in their web browser. To Summarize:
Open the YouTube app and select a video to watch.
Tap "Share,", then tap the "Snapchat" icon to automatically jump to the Snapchat Camera.
Create an original Snap with the automated YouTube sticker, and layer on using any of our creative tools.
Your friends just need to tap the YouTube Sticker to view the video in their YouTube app or default mobile browser.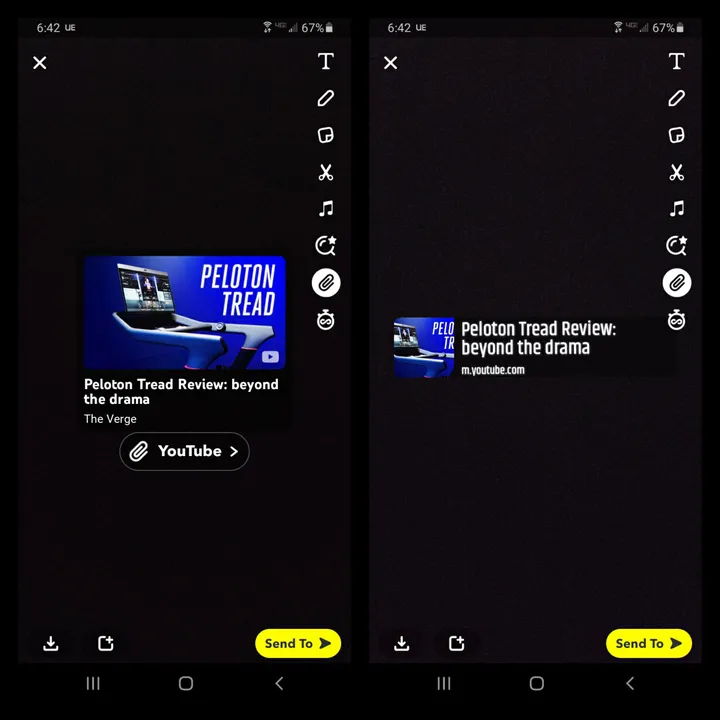 If you ever tried to include a YouTube video before, you'll probably recall having to go through a lot of hassle. First you had to copy the link from YouTube, then open Snapchat, where you'd have to take your photo or video. Afterwards, you'd hit the paperclip icon, and paste the link. The video would appear as a resizeable banner, showing a small thumbnail along with the title of the video.
Conclusion:
You can still add YouTube videos like this. In my opinion, it just doesn't look as aesthetically pleasing as this YouTube-specific sticker. The new sticker gives you a clearer look at the video's thumbnail, and actually shows you the name of the creator behind the video. The old format sometimes left important information out.
Snapchat similarly made a sticker for tweets in 2020, saving you from sending screenshots of tweets, or god forbid, taking a picture of a tweet on your computer screen. If you're a parent of guardian looking to get your kid a new phone, look no further!
Clean Phone allows you to manage your kid's phone from anywhere. It offers you complete parental control and tons of amazing features. You can easily pick and choose which apps and games your child can use! It supports complete phone monitoring, including phone call and SMS usage. You can even control how long and how often your kids can use apps or the internet. You can also check and manage their call logs, SMS logs and screen time. Over 1000 parents have mental peace because of clean phone.